An update on the 'Mr. Markle Situation' from the Palace – Kensington Palace has just released a statement on behalf of Meghan Markle, confirming that her father, Mr. Thomas Markle, will not be attending the wedding on Saturday.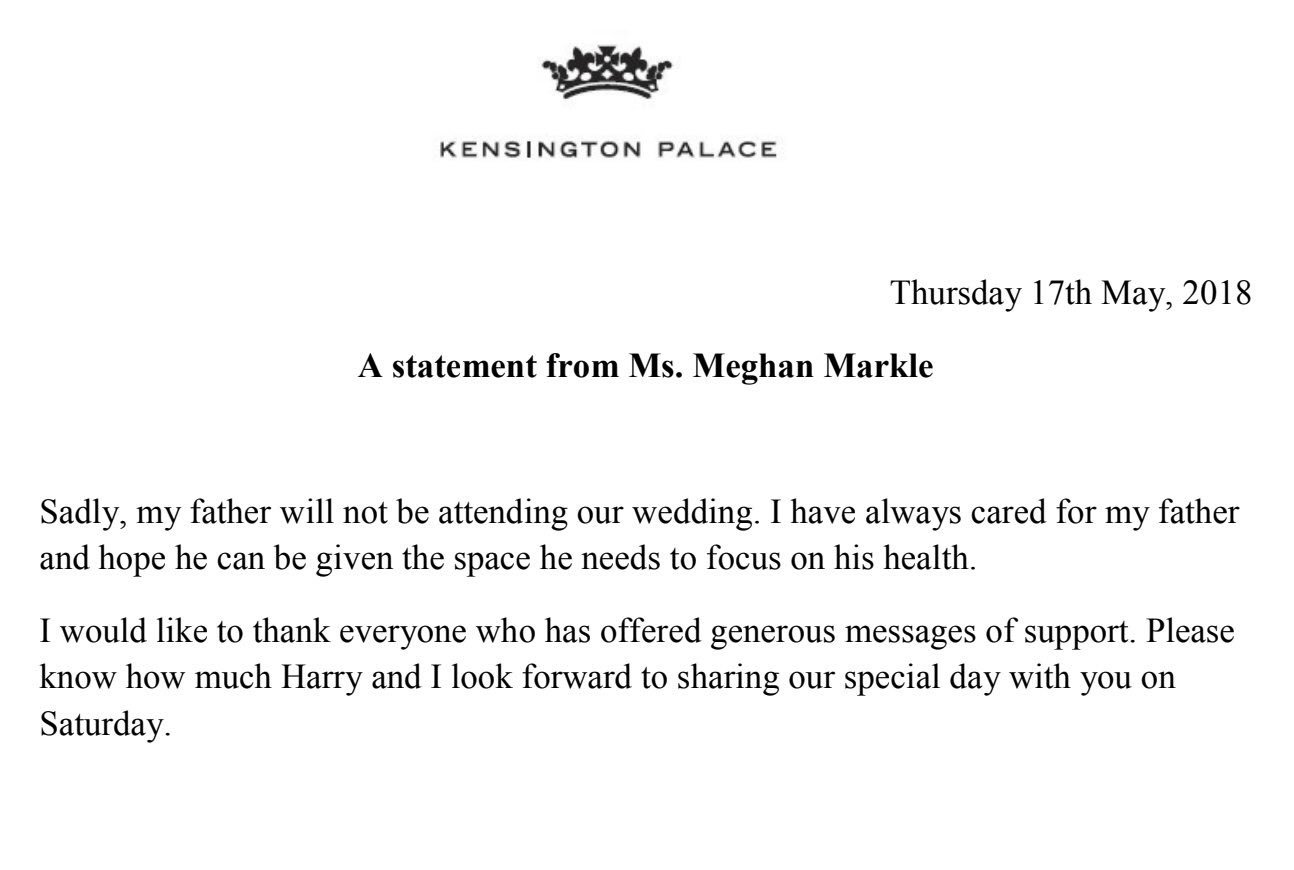 Over the past few days, things have been a slightly bit chaotic when it comes to Mr. Markle. Yesterday night, TMZ confirmed that Mr. Markle was out of surgery, alert and feeling relatively well. According to the reporter that talked to him, three stents were implanted in his blood vessels during the procedure. Mr. Markle is now recovering from his surgery and we wish him all the best. More on this can be read in this special blog post.
Walking down the aisle – Now Mr. Markle is not coming to the wedding, many are wondering who will join the bride in that important walk down the aisle at St. George's Chapel at noon, on Saturday. Will it be Meghan's mother, Doria? Is it possible that one of her male friends will do it, or that she will walk down the aisle on her own? Might we see her with a Royal Family members, such as Prince Charles, or the Duke of Cambridge, or maybe with the groom himself? We do not know more about this at this point, however, we are expecting to know more before the Ceremony starts.
A Royal Wedding Rehearsal – In the mean time, a rehearsal for the procession and the militairy taking part in the wedding is taking place in Windsor. Some of the Royal 'super fans' have already taken their spots so they will have the best view of the couple when they travel down the streets of Windsor.
The couple left Kensington Palace in the afternoon to join the rehearsal in the Chapel. Meghan wore a white blouse, see a couple of pictures here. The Duke and Duchess of Cambridge and their children were also seen leaving for Windsor. The Duchess was wearing a new dress by Michael Kors and Givenchy sunglasses. Pictures can be viewed here.
The choir – The Royal Family shared an update on the St. George's Chapel Choir, who will sing during the wedding service. The Choir were in rehearsal inside the Chapel yesterday, led by Director James Vivian. The Choir of St. George's Chapel dates back to 1348 and today comprises of 23 Choristers and 12 Lay Clerks singing alto, tenor and bass.
The Flowers – Kensington Palace also shared an update on the flowers used in the floral displays inside St. George's Chapel. On the picture below, floris Phillipa Craddock can be seen with Keeper of the Gardens John Anderson in Windsor Great Park, choosing flowers. Most of the flowers used will be seasonal, and taken from local gardens, such as the parks around Windsor Castle.  According to an earlier Kensington Palace statement, these will include branches of beech, birch and hornbeam, as well as white garden roses, peonies and foxgloves.